Raider, Manta & Trail Roamer ~ Revolutionizing the snowmobile industry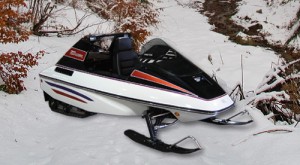 This was the final twin track design that was produced by Bob Bracey under Three R Industries.
Year 2000, like the 1980's Manta before it, still featured steering wheel design and foot pedals for the throttle and brake controls.
It came with a 725cc carbureted 4-stroke Kohler motor. Suspension with variable rate coil springs over gas shocks.
Load adjustable. This sled had electric start, reverse, mirrors, radio, high windshield, full adjustable suspension cockpit seat with back rest, cockpit heating, hitch, rear storage compartment, tilt steering wheel with impact collapsible shaft, fuel gauge, tachometer, speedometer, battery condition gauge, oil pressure gauge, low oil pressure engine warning, clock, parking brake, manual choke. All stainless fasteners.
Year 2001 came with 725cc fuel injected 4-stroke Kohler motor, but otherwise had all the same options as the 2000 model. There was talk of a 2002 model that was going to be released but the company closed down before it was made available to the public.