Raider, Manta & Trail Roamer ~ Revolutionizing the snowmobile industry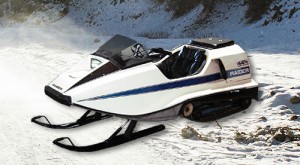 The first production model year was 1971, though the sled had been in development since 1969. There were two 1971 models, the Raider and the Roamer.
All Raiders had square tubular construction frames and fiberglass bodies. The 1971 Raider featured a 290cc single cylinder JLO 2-stroke engine in the beginning of the model year, but later may have switched to a twin cylinder 340 CCW motor.
All models from 1971-75 used the Walboro carburetors. The 1971 Roamer featured a 10 hp Briggs & Stratton 4-cycle engine. It is believed that approximately 50 '71 Roamers were produced. 1971 Raiders & Roamers featured a twist grip throttle. 1971 also featured two vents on each side of cockpit. The 1972 Raider was significantly redesigned. It was larger, longer, featured redesigned tracks, longer skis and rear shocks, along with the leaf sprung rear skids. For the 1972 model year, there were four Raider models: the 290, 340, 400, and 440 twin cylinder motors. 400 models are most often found with a standard tachometer and 440 models came standard with a tach and a speedometer.
There was a limited production Raider built in 1972 and intended for racing called the "Bandit." Production was thought to be around 50 units. All were put together at a separate facility from the LVI factory. It had a lighter weight body (it looks like carbon fiber which is actually weaved fiberglass on inside of body), front ski shocks (the first time on a Raider) and a different hatch design that had air scoops instead of a passenger seat. The body is black & white and it has a single wide white plastic snow flap, with "bandit" lettered in black and black & white stripes on the front. Most Bandits were built with Hirth fan cooled twin cylinder engines, but a few have been found with CCW engines. Bandits were to be built in 340, 400, 440 and 650 fan cooled Hirth powered Bandit models. The Hirth powered Bandits have been found with twin carbs and two small round Donaldson mufflers. The Bandits were intended for racing, but were found to be too heavy to be competitive. All were built by hand, so each is a little different.
In 1973, the Raider snowmobile was again completely redesigned. There were two models available in 1973, the 34tt and the 44tt. There is a 44tt prototype model with a hydraulic clutch assembly in lieu of primary and secondary clutch. This year was the best selling of all the Raiders. The 1974 Raider Snowmobiles experienced a few revisions from the 1973 model. The biggest changes were revised graphics on the snowmobile. The 1974 model year also marked the change of the Raider lineup into three distinct models, the Hawk, Eagle and Double Eagle. Most 1974 Eagle Raiders are actually unsold 1973 Raider 34tt & 44tt model inventory. The 1974 Hawk was an entry level Raider model. It had no gauges, no electric start, no front ski shocks, no brake lights, no hinged gas door cover and no passenger seat. It came equipped with a 340cc CCW engine. The decal featured a Hawk on it with Hawk words.
The 1974 Eagle was the mid-range machine that featured a standard speedometer, with optional tachometer and choice of two motors, 400 CCW or 440 CCW. The decal featured an Eagle on it with Eagle words. The 1974 Double Eagle was again a completely new, redesigned sled. It was slightly larger and used a more advanced coil sprung rear suspension technology than the Hawk and Eagle models. It also featured an injection molded body, hatch & pan and a wider front ski stance. This model also had a standard speedometer and tachometer. It was the top-of-the-line model and featured a 440/21 CCW motor or 440/22 valve motor. It had the distinctive gold paint job, tan seats and Double Eagle on the decals. There was a prototype made that featured a Honda motor that was liquid cooled.
The 1975 model year was to see the end of Raider production. These were all 1974 Double Eagle unsold snowmobiles that were used with the exception of the motors and side louvers which were used to make all three models in 1975. Very few 1975 Raider snowmobiles were manufactured, and included a revised 440 Double Eagle that was now burnt orange, which now had a 440cc motor. The 1975 "Eagle" was light blue & powered by a 340cc (339as) engine. There was no "Eagle" bird decal on the light blue 1975. There was a white Hawk model that had a 340cc (338ax) motor that also didn't have a bird on the decal. All 1975 Raiders were now powered by Kohler AS/2 fan cooled twin cylinder engines with CDI ignition except the Hawk which had an AX/2 non CDI motor. Leisure Vehicles had intended to create a two-person, side-by-side Raider designated as the Twin Eagle for 1975, but only a few prototypes were built. 1975 was a tumultuous year for Leisure Vehicles, due to a poor snow season, increasing emission & noise level restrictions, the departure of Bob Bracey from the company and an industry wide shake-out & contraction.
As a result of these problems, and many others, the company halted production on the Raider. Even though the company halted production there was a 1976 prototype manufactured using the 1975 Eagle that had red/white/blue decal on each side, and a slightly different dashboard and also included American Eagle decals.